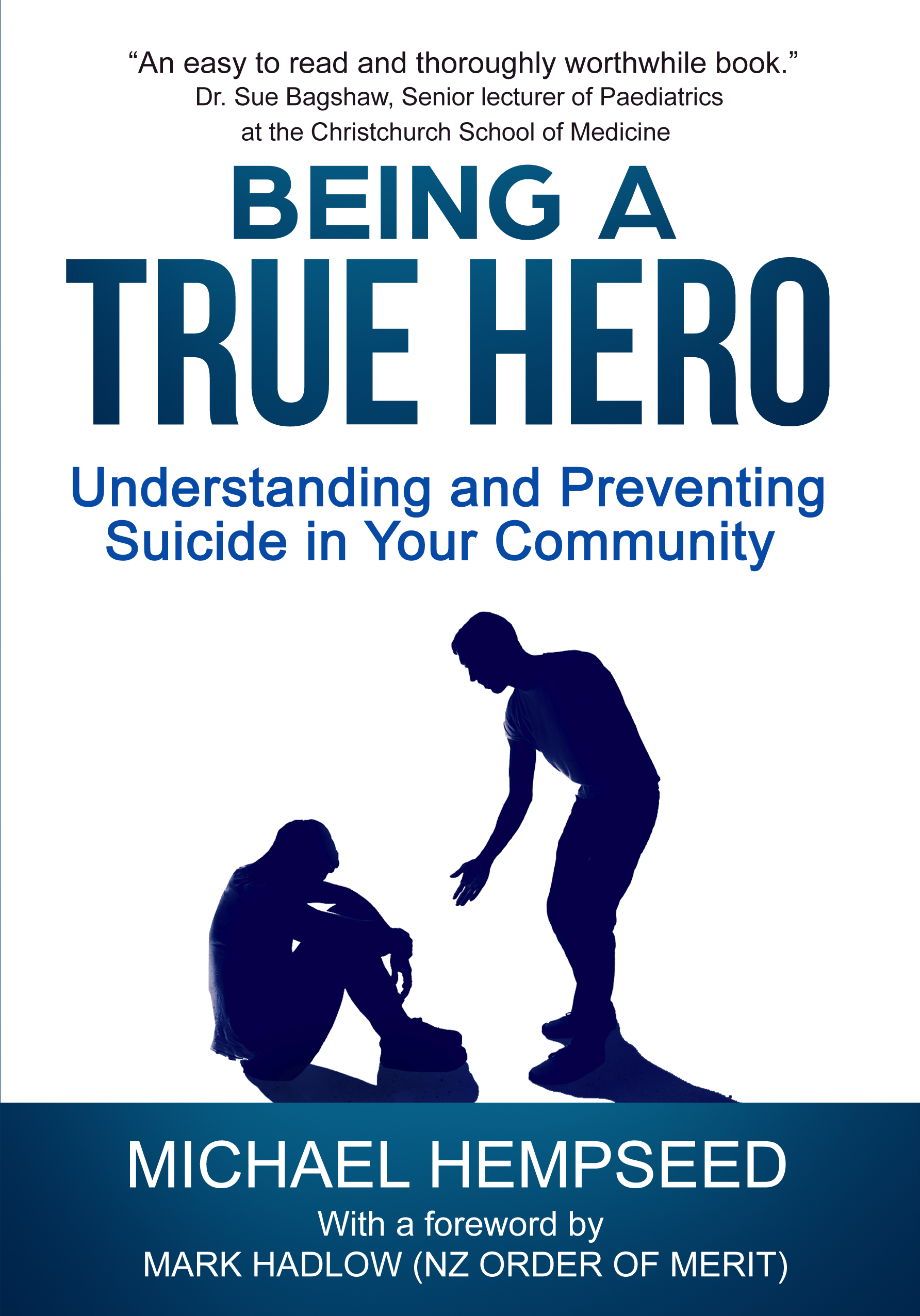 This is the website of the book "Being a True Hero : Understanding & Preventing Suicide in Your Community" by Michael Hempseed.
The book cover shows a figure on the right, he probably has a lot to do, he's probably busy yet he stops what he is doing to reach out and help someone in need, this is a true hero.
The topics covered include: depression, anxiety, bi-polar, brain injuries, self-harm, sleep loss, addiction, bullying, psychosis, trauma, loneliness, failure and many more. The book contains over 200 academic references. This book will empower anyone to know more about how to prevent suicide in their community.
The book contains a foreword by Mark Hadlow who featured in the Hobbit and King Kong but his greatest role was in Meet The Feebles.
Need Help? Click here
Reviews
"An easy to read and thoroughly worthwhile book."
- Dame Sue Bagshaw, Senior of Paediatrics at the Christchurch School of Medicine


"A beacon of hope to the community... Michael's thorough research is narrated with insightful reflections from practical experience... Highly recommended to those in the Health & Teaching Professions."
- Dr. Susan Maree Taylor, Rural GP


"Michael writes about mental illness and suicide with compassion and hope. His book is useful for people who have personal experience, the people who love them, and professionals who work in the field. It is serious, at times funny, and references up to date research."
- Kay O'Connor, PhD, Counsellor


"I recently asked a friend I was concerned about if he was suicidal, it turned out he was - and needed help. Without the information in this book I never would have had the confidence to do that. The material in this book could save many lives."
- Thomas Saywell, Youth Worker


"Michael's book is insightful, practical and easy to read with valuable information we all need to know about suicide. The book will be particularly helpful for those working with young people in residential settings in universities and polytechnics across the country."
- Dr Charles Tustin, Director, Student Accommodation, St Margaret's College, Otago University




TedX Speaker Michael Hempseed: Overcoming Failure




Below is a list of companies and organisations that Michael has spoken to: